Insurgency Sandstorm Server Assistant is a server assistant/manager application for Windows, which allows easy setup and maintenance of Insurgency Sandstorm dedicated servers.
It is in no way affiliated with Focus Home Interactive or NWI.
I made this application for my own use and I am putting it out there in case other people find it useful. I only run a private coop server so I have no use for bans and kicking etc. However as I am one those weird people who really enjoys coding, so I am open to putting in features that others would like, if they are not too time consuming.
Although I have spent a lot of time testing all current features, this is Alpha software, so it will probably have bugs or crash. Use at your own risk and please keep all criticism constructive.
Current features are...
Multiple server support.
Remote Admin and Local Server modes.
A clean GUI for editing server configurations admin lists and map cycles.
Built in Rcon client.
Built in server query to monitor the server state.
Built in Discord bot. (Local Server Mode only)
This is very much work in progress and I do plan to add a few more features, such as...
Server crash detection.
Schedule, with options to reboot server, check for updates and send server messages.
Download (removed as it is currently broken with the latest server version)
---
Known Issues
There is a bug in the Discord bot that prevents events from firing. (A temp fix is to simply disable and then re-enable the discord bot each time you start the app)
---
Next Release
Fix known issues.
Added scheduled tasks for server update and reboot.
---
Please post, feedback, bug reports and suggestions in this thread.
When reporting bugs please give as much information as possible, including your Windows version and language settings. The application keeps various log files which can be found from the Help>Logs menu. Please post the relevant parts that contain the errors.
Screenshots...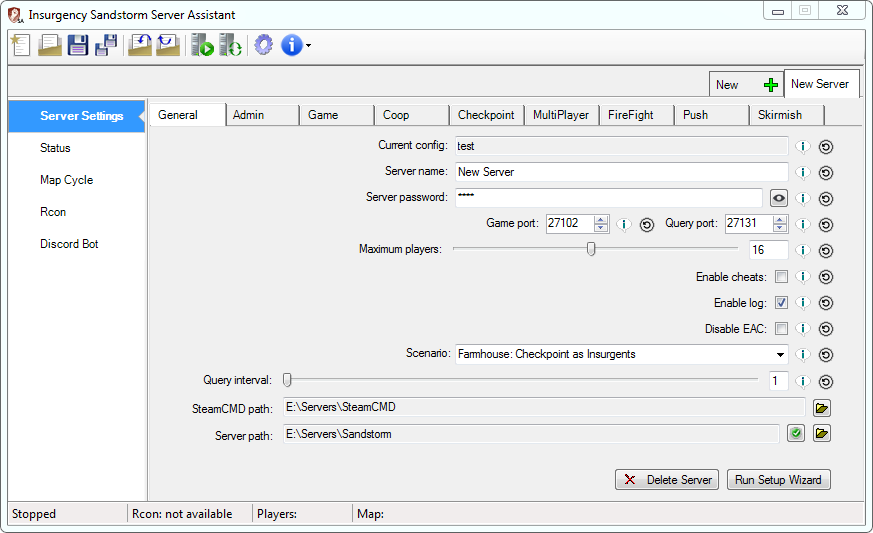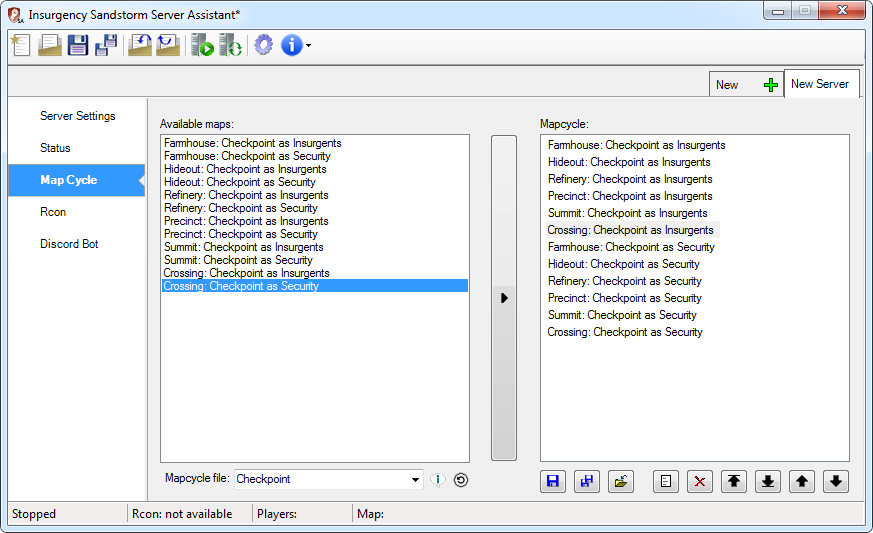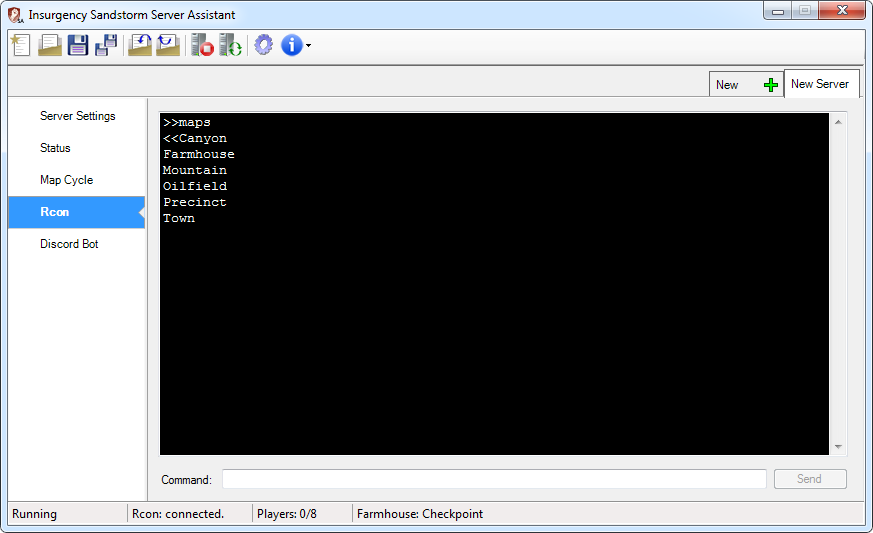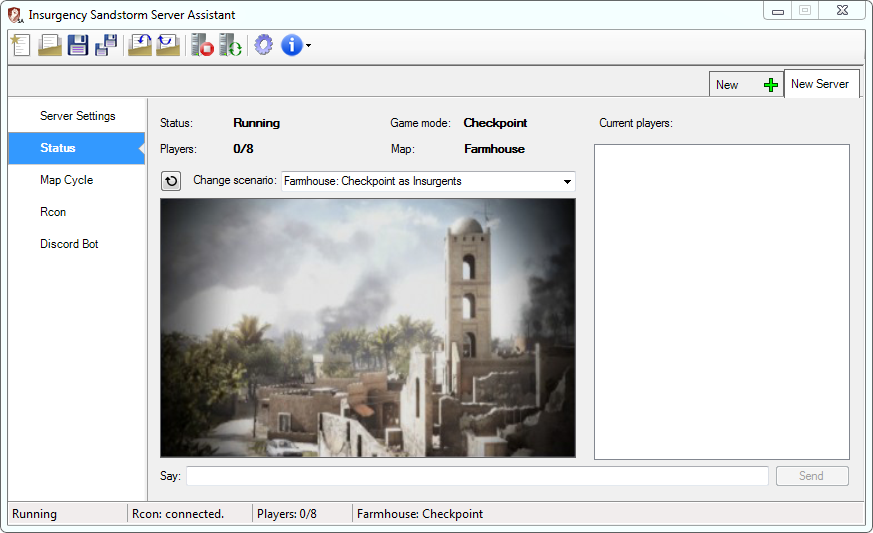 ---
History:
Alpha 0.8.4
Added schedule system and server message task.

Rcon can now only be enabled/disabled when the server is not running.

When downloading a server update, it now auto validates before showing an error.

Fixed error when using wizard to download SteamCmd & the server files.

Fixed error when downloading/validating with non English languages.

Fixed writing game.ini float values for non English languages.
Alpha 0.8.3
Added game mode filter menu to the change scenario list on the status page.

Added backup application data. (Options>Backup local application data)

Added map data editor window. (Options>Edit map data)

When configuring a remote server, it now grabs the server name from query data.

Remote servers now become unavailable after 10 failed queries in a row. (was 1)

Options toolbar button is a now a drop down menu.

Tweaked a few more tool tips.

Fixed status page player list not updating when switching tabs.

Fixed some slider controls not changing via keyboard input.

Fixed expanding checkbox panel not counting towards config changed.

Fixed occasional crash on remote server disconnect.
Alpha 0.8.2
Added auto connect option for remote servers.

Added custom state colors to easily identify each servers state.

Added RoundTime to checkpoint section.

Added admin list info label.

Fixed the player list on the status page, not showing any names.

Fixed a couple of issues when changing program modes.

Fixed discord events not counting towards config changed.

Fixed an issue typing values into a slider control's text field.
Alpha 0.8.1
Added remote admin mode.

Added support for multiple servers.

Added discord integration.

Added the bCounterAttackReinforce setting from Nov 14th patch.

Added Warn, kick and ban menu to players list on status page.

Added send server message to status page.

Added restart round button to status page.

Added change scenario combo to status page.

Added quick rcon command menu to the send command text field.

Added Save As buttons to admin list and map cycle

Added auto save option, to save changes without prompting.

Redesigned the UI for multiple servers.

If the configuration has errors, the first erroneous control is automatically selected.

Pressing return in a text field will move to the next field on that page.

Updated map list to latest version.

Moved Options to it's own window.

Improved logging to help track down errors.

Reordered tab stops for all controls.

Fixed server update check not retrieving the latest info.

Fixed a couple of hidden controls in the Server Settings>Game page.

Fixed a hidden control in the Server Settings>Multiplayer page.

Fixed -MapCycle command list argument not being passed.

Fixed -AdminList command line typo.
Alpha 0.8.0
Initial public alpha release.