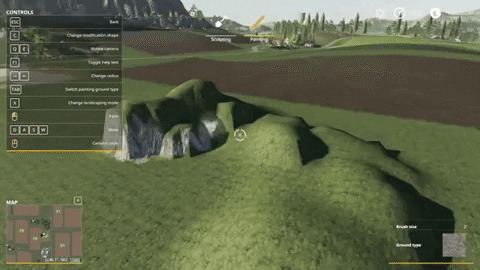 We are happy to have released our first major patch, including a brand-new feature perfect for intricate simulation fans or those who want to let their creative streak out – Landscaping!
Farming Simulator 19 responds to massive player demand with huge first patch, including brand new Landscaping feature!
Check out this new feature in our latest featurette.
Youtube Video
The new Landscaping feature allows you to modify the ground itself, controlling shape and color to give you even more ways to build the farm of your dreams. Accessible at all times but costing money to use, Landscaping can be used for anything from moving mountains to touching up the areas around your horse paddock.
As shown in the preview video, there are 16 varieties of ground that can be laid down, each with its own color and texture. Realistic paths, mud, and more can be chosen and placed by you to bring that extra token of personalization to your farm.
Also in this patch are new economic difficulty modes, changing how easy it is to make money via trading goods and selling items - get much more buck for your beasts on easy, or scrape out a living on hard, the choice is yours. There's also a large round of bug fixes which should make your time with Farming Simulator 19 smoother than ever before.
Patch notes
Features
[ADDED] Landscaping feature
[ADDED] Economic difficulty option
[ADDED] Support for mapping button combos besides the gamepad trigger buttons
[ADDED] In-game voting for mods
[ADDED] Combine rpm increase if the combine unloads
[ADDED] Selling of potato pallets
[ADDED] AI detection of tipped heaps
[ADDED] Support for mapping half-axes even if a device is unknown
[ADDED] Support for mapping non-centering device axes, such as a throttle on a joystick
Improvements
[IMPROVED] AI on angled edges
[IMPROVED] Mapping with devices not recognized by the game
[IMPROVED] Vehicle sounds
[IMPROVED] Combines can now be folded if just a small amount is loaded
[IMPROVED] Tree pickup of log grabs
Bugfixes
[FIXED] An issue that some PS4 players have black screen after installing the patch 1.2.0.0
[FIXED] Shading issues in some specific light/viewer combinations
[FIXED] Disappearing animals after starting a dedicated server again
[FIXED] Horse price issue when selling multiple horses at the same time
[FIXED] Egg pallets don't appear correctly
[FIXED] Unlimited food after cleaning in front of a trough
[FIXED] The mower BIG M450 can't be refueled
[FIXED] The header NH 3162 Draper 45ft doesn't work well with NH CR10.90
[FIXED] Väderstad Tempo V 8 doesn't work well in slopes
[FIXED] TT Multicultivator 5-in-1 doesn't work well in slopes
[FIXED] Clients have access to all vehicles from all farms
[FIXED] Unable to start a dedicated server
[FIXED] The camera is desynced from vehicle
[FIXED] Wear speed if washing is disabled
[FIXED] Issues with combines harvesting multiple fruit types
[FIXED] Engine sound in multiplayer
[FIXED] AI overtaking to other fields with small working widths
[FIXED] AI working width New Holland FDR 600
[FIXED] AI turn direction issues with cultivator and sowing machine attached together
[FIXED] Bale mounting on Fliegl Butterfly and Fliegl DPW
[FIXED] Delayed lowering of pipe for potato harvesters (Ropa Keiler 2, Grimme SE 280)
[FIXED] Crash on Mac OS X when saving screenshot
[FIXED] Black screen when starting game with some keyboard layouts
[FIXED] Trailers don't brake when detaching with automatic motor start off
Important:
If your game is updated to 1.2.0, you will only see multiplayer games that are also in 1.2.0.
Thus, you won't be able to connect to dedicated servers still in 1.1.0.
Farming Simulator 19 is out now for PlayStation 4, Xbox One, and PC/Mac. The Landscaping Update is available now on Consoles and PC/Mac.
https://farming-simulator.com/store.php?game=fs19