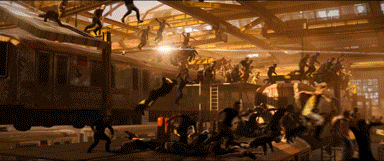 They're here! Pre-orders are now available for World War Z - celebrate with the Zombies Are Coming trailer!
We've just rolled out the latest gameplay trailer for World War Z, our highly anticipated co-op shooter. This "Zombies Are Coming" Trailer is the newest look at the game and shows off even more over-the-top, zombie-horde action, just in time to celebrate all pre-orders being fully live at digital and retail stores.
Powered by Saber's dynamic Swarm Engine, World War Z unleashes hundreds of fast-moving, bloodthirsty zombies at a time for a one-of-a-kind action experience. Choose from six distinct classes and an arsenal of deadly weapons, explosives, turrets and traps. Outlive the dead through intense four-player co-op campaign missions around the world, and battle both zombies and real human opponents in competitive, team-based Players vs. Players vs. Zombies (PvPvZ) multiplayer.
World War Z is expected to launch on April 16, 2019, for PS4, Xbox One and Windows PC via the Epic Games store.
World War Z is available to pre-order digitally and at retail. For full pre-order details, visit https://wwzgame.com/buy. All World War Z pre-orders come with the Lobo Weapon Pack, featuring three golden weapon skins and the dual-bladed Lobo spade, at no extra charge.
Thanks, and enjoy!