New to BB2 with the Legendary Edition, but I played a tonne of the first game.
If nothing else; why are we missing a screen where we can look at the history of the team in a single place?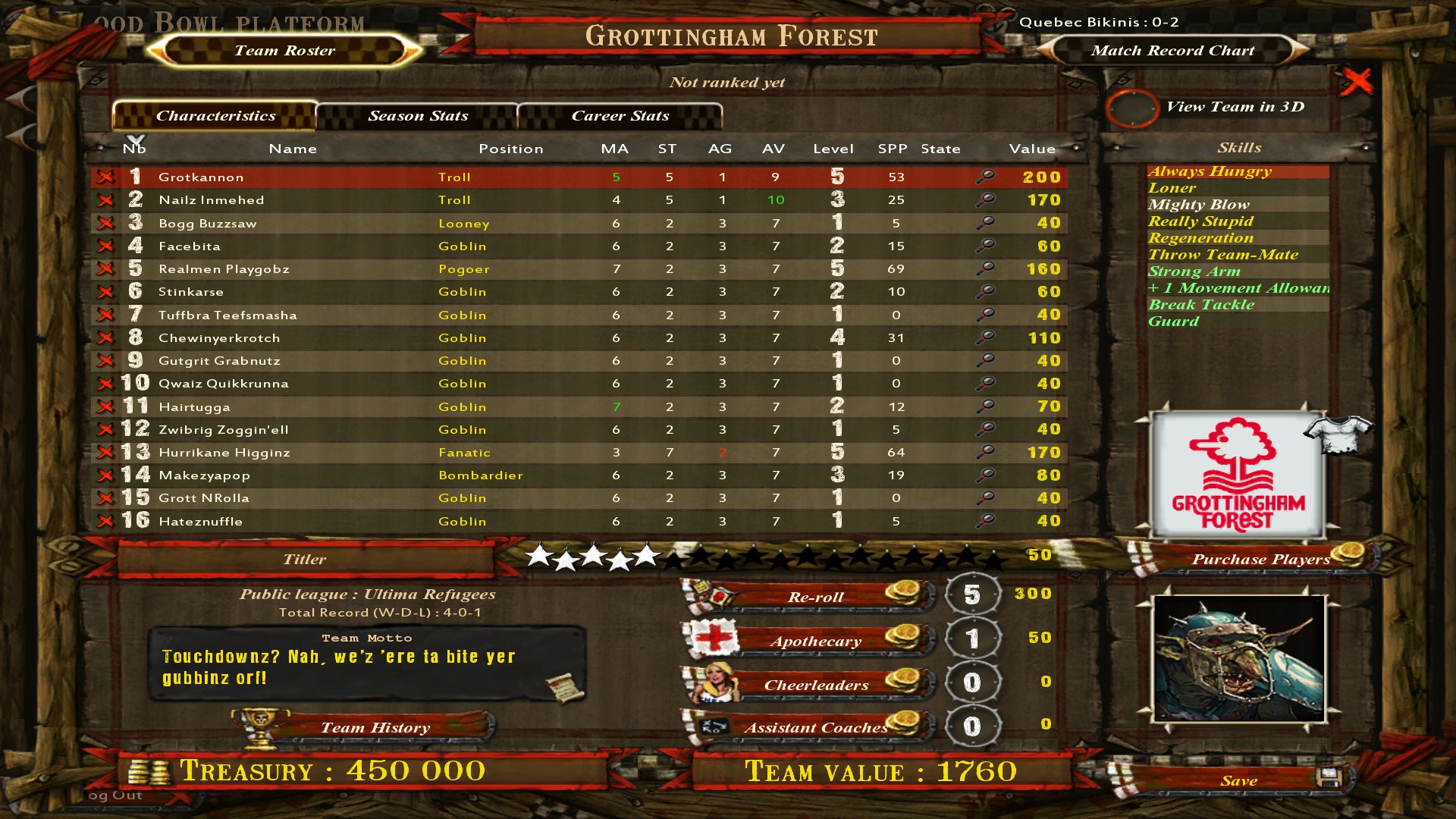 I love being able to compare each units experiences, filter via Touchdowns/Yards Run/KO's etc. In BB1 all I need to do is click Career Stats, and then each individual Stat to sort by that one for best and worst.
In BB2 all I can do is look at a single unit at a time, and even his own stats are on two different pages. Why? And then I have to exit out, to look at anyone else.
As you can see, I had a custom badge/banner in BB1. No one else could see it unless they downloaded it manually, so there wasn't any issue with copyright violations etc. Why is this also missing?
Also, why is the there no option to queue multiple teams for matchmaking? It would cut down the long wait times if you had more opportunities to do so.
Why are there "BB1 Camera" options, but it doesn't actually work like said game? In particular, what is the point of having fancy stadiums, when we can't assign a key to free movement any more and look around?
Why does it not say what the injury on a player is when they're moved to the box? In BB1 you could select it and it would detail it on the player card, which was handy for pondering what to do post match whilst my opponent takes their turn. Now they all just show a red cross.
Troll Regeneration; Why does it not appear to roll the result before it asks if you want to use an Apothecary? I've burnt them before and failed, only to see the Troll then use the Regeneration and end up saved; great, except it was wasting me an Apoth I could have otherwise have kept for later. There's no option under Skills to make this voluntary, so it's a forced decision?
The player boxes in the Stadiums aren't big enough to hold all the injuries a Goblin team is likely to take, especially when the sent of specials end up there; I've had them overflow so I've had two red crosses appear in the KO box, blocking my ability to easily see who might be coming back. This is especially annoying as depending on camera settings, you can't easily see into the boxes.
Why is there no X to close many of the windows, and you have to press Esc?
Why is the word "Bite" censored for team logos?
Why can't we recolour our teams after they've been created? Why don't we have alternative colour schemes for when we play someone with too close a one? It would be nice to have a Red away kit for my team.
Why do Trolls only have one model type now? Why is there no visual improvement upon level up?
Many of these will no doubt be extremely long term complaints. Which makes it all the more confusing to me; we're at the Legendary Edition at last, which is the only reason I'm here, actually getting previously released content for a reasonable price... but why is the game still in such a weirdly inferior state with regards to presentation?
last edited by